Get ready for our first ScentBridge Spotlight! 
Each spotlight will highlight some of ScentBridge's most innovative SMEs and professionals in the industry and include their thoughts and expertise around a specific topic.
The Value of Scent 
with Jeff Sneed
As scent marketing has grown over the years, Jeff has immersed himself in the sales, management, and strategy behind scent delivery. As one of the industry pioneers, Jeff can attest to the value scent gives business in conjunction with other media. 
For the most part, businesses and facilities focus on branding themselves through senses like sight and sound. For example, using specific colors for the walls, adding distinctive decor, or playing a particular style or music genre. While these strategies may tie in a company's branding, they don't compare to the emotive power of scent.  
Our sense of smell is hardwired through the limbic system — the part of the brain that deals with emotions and memory. It regulates autonomic or endocrine function in response to emotional stimuli and also is involved in reinforcing behavior. When done correctly, scent can play a powerful role in how a customer experiences, feels and even remembers a brand. 
Take this real-life scenario of a large hotel chain, for example. This corporation wanted to use the five senses to create a more memorable guest arrival experience. To capture each sense, the team established multiple initiatives. These included developing a custom music program, enhancing their lighting and decor strategy, creating a signature fragrance, adding towel service, and providing an arrival beverage for guests.  
The most effective of all those initiatives? Scent. The hotel found that customers reacted most favorably to the consistent fragrance they were using in the lobby of their hotels worldwide. Customers could recognize and associate the brand solely based on smell. Later on, the hotel created amenity products (like shampoo and soap) with the same fragrance to further amplify their brand recall through the power of scent.
Facilities should no longer overlook the impact scent can have on their business. When brands capitalize on the value of scent, they can expect immediate results and an overall better experience for their customers. 
Meet Jeff Sneed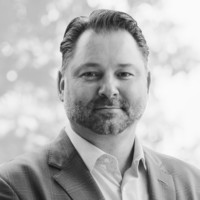 Jeff Sneed is an accomplished, sales-oriented executive with over 25 years of experience in account management, corporate leadership, business development, and strategic sales. Currently, Jeff is the Vice President of Sales for Scentbridge, the industry-leading smart scent system provider. 
Throughout his career, Jeff has worked extensively to enhance the Customer Experience for his clients in a vast array of markets through the use of multiple media.
Before ScentBridge, Jeff held executive positions as Vice President of Sales for Prolitec, Inc. and Chief Revenue Officer for Spectrio, LLC. He also founded and still serves as a managing partner for Sneed Consulting, LLC. 
Jeff's scent marketing experience stems from his work at ScentAir, where he served as ScentAir's Senior Vice President of Sales for over 8 years. Jeff joined ScentAir as employee seven and quickly developed a go-to-market strategy that grew the sales and marketing organization to 90+ team members, transforming the relatively new concept of "scent marketing" from an interesting idea to a brand standard within marquee accounts.  
Before entering into executive management, Jeff had a distinguished career in sales with Mood Media where he consistently ranked in the top 1% of his peers at the local, regional, and national levels. He was directly responsible for negotiating and closing multiple enterprise agreements with major brands in markets such as banking, specialty retail, restaurant, and healthcare.